HPYF 2005 Pics!
Jody Wright and 1D Saddle Sponsors, Featherlite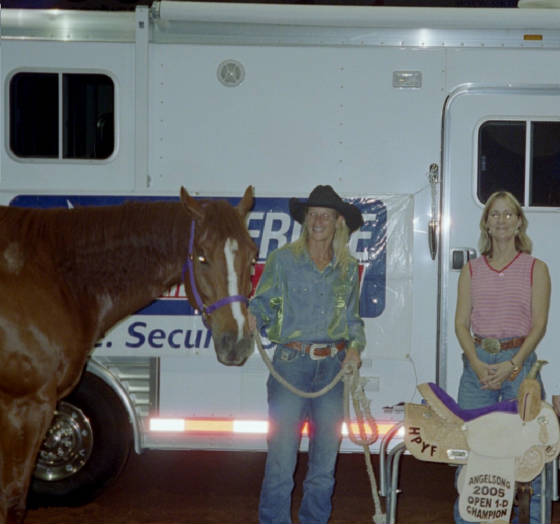 1D Champion Saddle Winner!
2D Saddle & Awards, Sponsored by Champion Trailer
2D Award Winners!
3D Award Winners!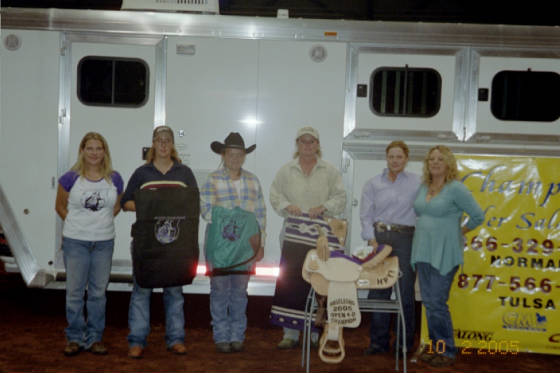 4D Award Winners!
Nichole Harris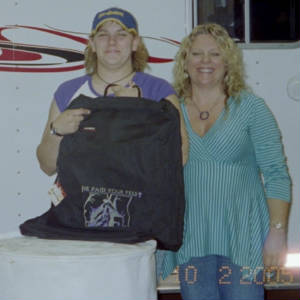 5D Award Winner!
Derek Luster
5D 4th Place Winner
HE PAID YOUR FEES BARREL RACE & MINISTRY RETREAT was a HUGE success! Thank you all so much for making the weekend what it was, you are the most awesome group of people we have ever had the priviledge of meeting!
Big o God bless to Powerhorse Production's Micheal Floyd and his tractor drivers for a first rate job, to Tracy and Tina Coyner of Cowboy's Heaven for being so tuned in we didn't have to even speak to know what each other were thinking! To Pastor Bill Overton of the NCBRA for being on top of the church services and music set up, to Keith Brown for yet another anointed concert! To The Cronisters for coming in and making awesome hands whenever and wherever we needed them, to Jerome for taking off work to help the big o pregnant lady unload and set up office! To Murray and Lynn McKenzie for going above and beyond and bringing such an anointed retreat and church service! To Bud and Becky Coon for their faithful dedicated service in every area imaginable! To the Bond's of Outriders for Christ for alllllllllllllllll they did to help! To the AWESOME Original Glory Riders for amazing amazing amazing ministry! Most of all, a HALLELUJAH THANK YOU JESUS PRAISE GOD! Cuz none of this could have happened had He not given the Vision and PROVISION for it! He made a way where there was NO WAY! He is FAITHFUL!
OKC Featherlite Trailer Sales, our 1D SADDLE SPONSORS!
Champion Trailer Sales of Norman, our 2D Saddle Sponsors!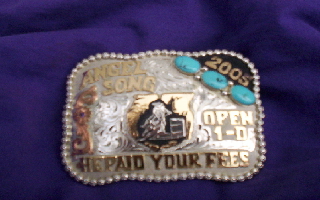 Praise God our Buckles are in and GORGEOUS!!!
1D Buckle Sponsor Oklahoma Vet Med
2D Buckle Sponsor Virtuous Women Ministry
3D Buckle Sponsors Gary & Lisa Smalley
4D Buckle Sponsor Payne County Bank
5D Buckle Sponsor Cowboy's Heaven
A little more info on our payout stats... as we advertised, we paid 90% of our jackpot and 100% of our $7,500 added money. Please see our breakdown.
The majority (78%) of our contestants elected to go to the church service for their entry fee. The rest (22%) of the 216 entries either elected to pay their fees instead, or were multiple horse entries.
We had 47 paid entries in the open = 47x49.50=2,227.50
22 paid youth incentive entries =22x13.50= 297.00
27 paid senior incentive entries =27x13.50= 364.50
Plus $7,500 added money =7,500.00
$10,488.00
Our actual payout was $10,482.65, with a difference of $5.35 due to an error I made in the youth incentive 3D and a check has been mailed to that contestant today for the $5.35 we owed her. If you have any questions, please feel free to contact me. Thanks so much! God bless! Shala
| | | | | | | |
| --- | --- | --- | --- | --- | --- | --- |
| 20 | LEFORCE, JEAN | INDY | 0 | 0 | 0 | NO TIME |
| 38 | BAILEY, BRITTNEY | SCORPIAN'S DRIFT | 0 | 0 | 0 | NO TIME |
| 107 | BEAUFORD, SIERRA | MISTER | 0 | 0 | 0 | NO TIME |
| 110 | HALL, SYDNEY | MOLLY | 0 | 0 | 0 | NO TIME |
| 129 | SUIT, SHANDA | UNKNOWN | 0 | 0 | 0 | NO TIME |
| 148 | JORDAN, GINA | RED HOT PASSION | 0 | 0 | 0 | NO TIME |
| 179 | KEITH, KIM | KOKAMO ZEE | 0 | 0 | 0 | NO TIME |
| 202 | CROSBY, REGGIE | UNKNOWN | 0 | 0 | 0 | NO TIME |
| 54 | DeWEESE, LIANA | SUGARS NINNEKAH | 15.747 | 5 | 20.747 | NO TIME |
| 86 | GABLE, CHERYL | POVERTY BLIZZARD | 16.06 | 5 | 21.06 | NO TIME |
| 172 | GRAY, KATHY | BB GOLDENMOON | 16.08 | 5 | 21.08 | NO TIME |
| 142 | WISEMAN, ANGIE | LOTAGO BUG | 16.175 | 5 | 21.175 | NO TIME |
| 150 | GORDON, LYNDA | TC | 16.217 | 5 | 21.217 | NO TIME |
| 135 | HOUSER, BUTCH | IT'S A PERKY BOY | 16.24 | 5 | 21.24 | NO TIME |
| 201 | WEHKAMP, JANA | VC DIGGERS HUNKEY TONK | 16.252 | 5 | 21.252 | NO TIME |
| 76 | HOOTMAN, TRACIE | JAG | 16.642 | 5 | 21.642 | NO TIME |
| 14 | WILLEMSMA, DEBBIE | HAWK ABOUT HER | 16.735 | 5 | 21.735 | NO TIME |
| 52 | ZALESKI, BARBARA | JUSTIN BROWN | 16.811 | 5 | 21.811 | NO TIME |
| 58 | SHOOK, PATTI | WILD WEST MOON | 17.706 | 5 | 22.706 | NO TIME |
| 184 | ATWOOD, SARA | DANDYS ROCKIN JOE | 17.708 | 5 | 22.708 | NO TIME |
| 24 | McCREARY, MELISSA | JUST AN EASY DASH | 18.687 | 5 | 23.687 | NO TIME |
| 39 | PLUMB, SUNDAY | MATT DILLION | 18.947 | 5 | 23.947 | NO TIME |
| 35 | JURAD, RAMONA | SNEAKIE | 19.003 | 5 | 24.003 | NO TIME |
| 11 | KAUFMAN, MARI | UNKNOWN | 0 | 0 | 0 | SCRATCH |
| 16 | JONES, BROOKE | CROW'S TRIANGLE | 0 | 0 | 0 | SCRATCH |
| 125 | SCRATCH | CASH | 0 | 0 | 0 | SCRATCH |
| 134 | MINER, CANDIE | VEGAS | 0 | 0 | 0 | SCRATCH |
| 140 | MAXWELL, SANDY | CON A GOLDSEEKER | 0 | 0 | 0 | SCRATCH |
| 154 | SCRATCH | | 0 | 0 | 0 | SCRATCH |
| 170 | SCRATCH | GOOSE | 0 | 0 | 0 | SCRATCH |
| 1 | WRIGHT, JODY | EFFORTLESS FAME | 15.36 | | 15.36 | 1ST 1D |
| 156 | MILLER, DEANTHA | YIPPY | 15.514 | | 15.514 | 2ND |
| 97 | PHILLIPO, KELLY | TEE | 15.57 | | 15.57 | 3rd |
| 199 | MYLNEK, HOLLY | REAL EASY RAIDER | 15.61 | | 15.61 | 4th |
| 157 | FRYAR, STEPHANIE | SAIL ON LENA | 15.67 | | 15.67 | 5th |
| 105 | OLLER, CARLA | OLLERS SCAT CAT | 15.679 | | 15.679 | 6th |
| 75 | CLABORN, CORTNEY | ME MERRY SPECIAL | 15.692 | | 15.692 | 7th |
| 102 | HUMAN, KANDY | GALLADASHIN | 15.719 | | 15.719 | 8th |
| 48 | RENSHAW, KAREN | NO HONOR LEFT | 15.785 | | 15.785 | 9th |
| 168 | McDANIEL, KASI | COTTONBALL | 15.828 | | 15.828 | 10th |
| 116 | GARNER, KARI | WINKASIDASHBY | 15.834 | | 15.834 | |
| 138 | POWERS, LANITA | WAHINI CASH | 15.839 | | 15.839 | |
| 176 | WARD, SHELLEY | BB | 15.857 | | 15.857 | |
| 104 | KANE, TYRA | ZIP DANCE | 15.887 | | 15.887 | 1ST 2D |
| 136 | RILEY, KRISTIE | DEUCE | 15.938 | | 15.938 | 2ND |
| 123 | POER, KERRY | MR BIG | 15.96 | | 15.96 | 3rd |
| 122 | CARVER, SANDY | SQUIRT | 15.961 | | 15.961 | 4th |
| 85 | DRY, CAROL | T'S ROLLIN THE CASH | 15.97 | | 15.97 | 5th |
| 119 | BAKER, STANA | PIZZAZZ | 15.999 | | 15.999 | 6th |
| 192 | OWEN, KENDAL | UNKNOWN | 16.019 | | 16.019 | 7th |
| 211 | KRATER, SHAN | BOXER | 16.02 | | 16.02 | 8th |
| 133 | GORDON, LYNDA | SNOOPY | 16.021 | | 16.021 | 9th |
| 191 | LEE, TERESA | OKIE HICKORY | 16.023 | | 16.023 | 10th |
| 115 | COPPINGER, BELINDA | BULLY | 16.044 | | 16.044 | |
| 81 | GALLIHER, BRITTANY | BUNNY | 16.045 | | 16.045 | |
| 10 | GRAND PRE, ANGIE | IDGIT | 16.066 | | 16.066 | |
| 56 | HUNT, CARRIE | TENDER SKIP BIG DUDE | 16.067 | | 16.067 | |
| 99 | MINER, CANDIE | MINNIE | 16.067 | | 16.067 | |
| 203 | WILLIAMS, PAM | JETTA BUG | 16.093 | | 16.093 | |
| 146 | WARD, SHELLEY | CLYDE | 16.099 | | 16.099 | |
| 46 | BUSCH, JANE | CANDY BAR WHEEL | 16.112 | | 16.112 | |
| 165 | GALL, MELISSA | MEGA | 16.121 | | 16.121 | |
| 67 | WRIGHT, JODY | NEON SNEAKERS | 16.123 | | 16.123 | |
| 2 | RENSHAW, KAREN | IT'S A BUGS LIFE | 16.131 | | 16.131 | |
| 22 | FLOYD, STORMI | PINBALL | 16.137 | | 16.137 | |
| 144 | OWEN, KENDAL | POPS HANDY MAN | 16.15 | | 16.15 | |
| 57 | BADLEY, JACKIE J | REGERS BLACKBIRD | 16.163 | | 16.163 | |
| 145 | BAXTER, BETH | WINNAWADDACASH | 16.167 | | 16.167 | |
| 90 | OLLER, CAMMIE | CONTROL THE CRUISE | 16.172 | | 16.172 | |
| 188 | WEATHER, SANDY | ELMANS BEST | 16.184 | | 16.184 | |
| 40 | BRUNING, JANE | HOTTER COLOURS | 16.185 | | 16.185 | |
| 71 | LOBBAN, JAN | JUBILEE | 16.2 | | 16.2 | |
| 207 | WHISENANT, KINDELL | JUDY'S SIX FIGURES | 16.204 | | 16.204 | |
| 166 | OLLER, CAMMIE | SMOKE | 16.214 | | 16.214 | |
| 182 | LANDSBERGER, JUDY | CHEYENNE LIGHTS | 16.249 | | 16.249 | |
| 30 | RODRIGUEZ, PAIGE | BOBBIE SOX LOVER | 16.258 | | 16.258 | |
| 65 | COX, LAURIE | SUCCESS YOU BET | 16.286 | | 16.286 | |
| 204 | MOORE, RANDI | SISSYS HOLLEYWOOD | 16.293 | | 16.293 | |
| 132 | BATENCOURT, JILL | LAZY EFFORT | 16.312 | | 16.312 | |
| 198 | GREEN, TYE | MARTIN | 16.335 | | 16.335 | |
| 7 | DICKEY, VIRGINIA | ARROW JET EXPRESS | 16.358 | | 16.358 | |
| 50 | GABLE, CHERYL | TARZAN | 16.359 | | 16.359 | |
| 32 | RICHARDSON, D J | ROCKY | 16.38 | | 16.38 | 1ST 3D |
| 162 | OLLER, CARLA | WEST COAST DASH | 16.382 | | 16.382 | 2ND |
| 127 | COUGHRAN, SHELLIE | SPECK | 16.404 | | 16.404 | 3rd |
| 117 | JORDAN, GINA | GR NOBLE FANZAN | 16.406 | | 16.406 | 4th |
| 60 | SHELLHAMMER, ANITA | RICH REWARDS | 16.412 | | 16.412 | 5th |
| 96 | LUCAS, SHERRI | KILLER | 16.414 | | 16.414 | 6th |
| 59 | IRLBECK, DANIELLE | UNKNOWN | 16.421 | | 16.421 | 7th |
| 73 | BRYANT, LORENA | DECK WHEEL | 16.425 | | 16.425 | 8th |
| 5 | TITSWORTH, CHRIS | ROWDY | 16.426 | | 16.426 | 9th |
| 3 | LESUEUR, LEE ANN | NOTHING BUT NET | 16.433 | | 16.433 | 10th |
| 215 | BOLDING, KIM | JUDGE | 16.442 | | 16.442 | |
| 205 | MOORE, KATIE | RUBY DOO | 16.444 | | 16.444 | |
| 131 | HOOVER, TRISH | BOOTS | 16.447 | | 16.447 | |
| 79 | HICKS, CAROLYN | MR. CLEAN | 16.454 | | 16.454 | |
| 130 | MAGNUSON, KENT | NO TIME TO LOOSE | 16.475 | | 16.475 | |
| 27 | ROSSON, CONNIE | GO WITH THE BRAT | 16.48 | | 16.48 | |
| 91 | CORFF, DARLA | REGAL RUNE | 16.498 | | 16.498 | |
| 95 | LAWSON, STEPHANIE | NATE | 16.5 | | 16.5 | |
| 45 | NELSON, JULIE | IMA NANCY BOONE JO | 16.506 | | 16.506 | |
| 180 | LANE, KIM | COWBOY | 16.511 | | 16.511 | |
| 164 | POER, KERRY | SOCKS | 16.512 | | 16.512 | |
| 196 | RODEN, DEBBY | DOO | 16.512 | | 16.512 | |
| 94 | BATENCOURT, JILL | V O GOLD | 16.537 | | 16.537 | |
| 195 | SCHNEIDER, DARLA | DANNY | 16.57 | | 16.57 | |
| 41 | KIRKPATRICK, ALICIA | EXTREME SCARLETT | 16.582 | | 16.582 | |
| 55 | BROWN, KAREN | UNKNOWN | 16.623 | | 16.623 | |
| 177 | OLIPHANT, QUINLEY | SHEZA KANSAS DEER | 16.634 | | 16.634 | |
| 100 | BAKER, KAMI | FLITABILITY | 16.651 | | 16.651 | |
| 70 | KINGSBERY, KIM | MY GO EASY | 16.677 | | 16.677 | |
| 47 | TITSWORTH, CHRIS | GO ZOOM WITH HONOR | 16.687 | | 16.687 | |
| 209 | SPARLING, STACI | JAMIMAH | 16.69 | | 16.69 | |
| 28 | HOOTMAN, TRACIE | PISTOL | 16.691 | | 16.691 | |
| 200 | STICKLER, SHERRY | MISS LIGHTENING STREAK | 16.698 | | 16.698 | |
| 98 | HOOVER, MORGAN | JA DOCTOR DANGER | 16.715 | | 16.715 | |
| 158 | FISCHER, DEB | JETS SIXTEEN TONS | 16.726 | | 16.726 | |
| 89 | PHILLIPO, TAMMY | ELVIS | 16.735 | | 16.735 | |
| 109 | SHORES, MORGAN | TRULY A PASSIN CASH | 16.735 | | 16.735 | |
| 43 | McCARLSON, DONNA | T'S STEP DASH N CASH | 16.755 | | 16.755 | |
| 149 | KEEELING, TIFFANY | HUMMER | 16.76 | | 16.76 | |
| 120 | WISEMAN, ANGIE | THUNDER BOOMER | 16.768 | | 16.768 | |
| 63 | RODRIGUEZ, PAIGE | VALENTINE SUGAR BAR | 16.778 | | 16.778 | |
| 108 | JERNIGAN, KIM | JO | 16.792 | | 16.792 | |
| 137 | PAYNE, DEBI | SPEEDY SENITIAS | 16.799 | | 16.799 | |
| 78 | BOND, SUSAN | EASY | 16.802 | | 16.802 | |
| 178 | BAKER, TANNA | DOCS BADGER | 16.813 | | 16.813 | |
| 69 | EVANS, KELLEY | LARK'S LITTLE RASCAL | 16.822 | | 16.822 | |
| 186 | FOREMAN, BOBBIE | BERT | 16.868 | | 16.868 | 1ST 4D |
| 181 | CARNEY, KELLY | STAR IN HER EYE | 16.901 | | 16.901 | 2ND |
| 33 | MONNAHAN, TRENDA | ROCK N ROLL TREASURE | 16.912 | | 16.912 | 3rd |
| 128 | CHAMBERS, AMANDA | LG | 16.943 | | 16.943 | 4th |
| 84 | FORD, YVETTE | BUBBA | 16.946 | | 16.946 | 5th |
| 171 | MAGNUSON, KENT | BLAZE O DOC | 16.947 | | 16.947 | 6th |
| 114 | NUNLEY, SHANNON | ACE | 16.949 | | 16.949 | 7th |
| 111 | McDANIEL, KASI | PIGLET | 16.961 | | 16.961 | 8th |
| 161 | PIGEON, BRENDA | BAILEY | 16.961 | | 16.961 | 9th |
| 151 | LUCAS, SHERRI | HOWIE | 16.974 | | 16.974 | 10th |
| 26 | HIEGEL, ANNA | MISS DEMITRIUS | 17.007 | | 17.007 | |
| 187 | CARVER, KIM | DOC | 17.017 | | 17.017 | |
| 37 | MOCK, DEANNA | HECK OF A HANK | 17.025 | | 17.025 | |
| 80 | WATERS, CAROL | BET N BULL | 17.077 | | 17.077 | |
| 101 | BRUCE, HEIDI | TVR LUCKY LEAP | 17.087 | | 17.087 | |
| 185 | MOWERY, PAM | PATCH | 17.11 | | 17.11 | |
| 141 | MARCUSSON, TARA | DANDYS ROYAL ZACK | 17.132 | | 17.132 | |
| 62 | SHANAWAY, SARAH | COMAN CINCO | 17.133 | | 17.133 | |
| 174 | PAYNE, DEBI | DARBY DAY JET | 17.133 | | 17.133 | |
| 153 | BEAUFORD, SIERRA | MICKEY | 17.14 | | 17.14 | |
| 118 | TAYLOR, JESSICA | ROWDY | 17.153 | | 17.153 | |
| 194 | COOPER, LORI | SNAKE | 17.161 | | 17.161 | |
| 92 | JORDAN, GINA | COLONEL GOLD LEO | 17.18 | | 17.18 | |
| 93 | CARTER, CHARLETTE | SMASHEM SIXBALL | 17.186 | | 17.186 | |
| 12 | NICHOLS, TAHNI | ROCKY | 17.198 | | 17.198 | |
| 126 | DeWEESE, LIANA | DH DOC TA DASH | 17.2 | | 17.2 | |
| 106 | CHAMBERS, AMANDA | TILLY | 17.221 | | 17.221 | |
| 49 | KEMNITZ, ROSE | BELLE | 17.222 | | 17.222 | |
| 9 | RAPPOLD, TRUDY | MAZE N GRACE | 17.245 | | 17.245 | |
| 23 | LAURITZSON, JULIA | SHORT CIRCUIT ANNIE | 17.272 | | 17.272 | |
| 25 | ROSE, JANICE | DIGGER | 17.273 | | 17.273 | |
| 169 | CAYWOOD, DEBBIE | SMOOTH | 17.28 | | 17.28 | |
| 167 | HYGAIL, JAN | MARQUEE | 17.297 | | 17.297 | |
| 139 | LAMB, CINDY | RAMBO | 17.301 | | 17.301 | |
| 197 | PETSKA, GAIL | CANOLA | 17.39 | | 17.39 | |
| 34 | BANKS, BRENDA | UNKNOWN | 17.399 | | 17.399 | |
| 8 | HEATH, STEVE | SWEET PEA | 17.407 | | 17.407 | |
| 143 | COON, AUDREY | JOCIE | 17.413 | | 17.413 | |
| 4 | BAILEY, SHAWNA | STORMY'S BANIETA POCO | 17.457 | | 17.457 | |
| 88 | CAYWOOD, DEBBIE | KC MAJORS LAST FLASH | 17.468 | | 17.468 | |
| 64 | IRLBECK, DANIELLE | UNKNOWN | 17.471 | | 17.471 | |
| 160 | KEEELING, TIFFANY | FALLY | 17.475 | | 17.475 | |
| 213 | MOORE, RANDI | SISTERS SHIMMERS GOLD | 17.513 | | 17.513 | |
| 212 | RODEN, DEBBY | CLARKS DOC BAR JR | 17.515 | | 17.515 | |
| 208 | COLE, SHELLEY | MELTDOWN BROWN | 17.577 | | 17.577 | |
| 190 | LEE, MADISON | DOCS TWISTED PEP | 17.582 | | 17.582 | |
| 13 | WALKER, CALLIE | BUDDYMARK BUG | 17.611 | | 17.611 | |
| 175 | JERNIGAN, KIM | OKIE OF PLENTY | 17.636 | | 17.636 | |
| 36 | STUMPF, DEBBIE | DUFFYS SOCKS | 17.644 | | 17.644 | |
| 82 | MOXLEY, CHRISTY | SIERRA | 17.684 | | 17.684 | |
| 155 | PAYNE, JULIE | SMOKIN "EDDIE" JOE | 17.72 | | 17.72 | |
| 183 | HEAD, PATRICIA | YELLER GAL ZAN | 17.756 | | 17.756 | |
| 159 | LAWSON, ROBIN | GRACE | 17.801 | | 17.801 | |
| 193 | CROSBY, MARKY | UNKNOWN | 17.902 | | 17.902 | 1ST 5D |
| 113 | RILEY, KRISTIE | DIESEL | 17.958 | | 17.958 | 2ND |
| 53 | STOVER, BEVERLY | FLAMING HOT | 17.962 | | 17.962 | 3rd |
| 147 | LUSTER, DEREK | MESCHAK | 17.97 | | 17.97 | 4th |
| 17 | HARRIS, NICHOLE | SPARKLING KELLY | 17.975 | | 17.975 | 5th |
| 206 | WALL, CHRIS | JR | 18.025 | | 18.025 | 6th |
| 6 | ENGLISH, CHRISTY | BUY RODEO QUEEN | 18.136 | | 18.136 | 7th |
| 214 | FOREMAN, BOBBIE JO | SHORTY | 18.15 | | 18.15 | 8th |
| 21 | McDONALD, MELANIE | TANQUERYS FLASHBACK | 18.156 | | 18.156 | 9th |
| 121 | RITCHIE, MISSY | WINSTON | 18.314 | | 18.314 | 10th |
| 15 | HUBBARD, RITA | MI TE BUFFALO KID | 18.315 | | 18.315 | |
| 152 | NUTTER, BEVERLY | OPEN APPROACH | 18.328 | | 18.328 | |
| 68 | GIBSON, K J | JOSIE | 18.348 | | 18.348 | |
| 83 | COOKSEY, RITA | ESPECIALLY A ROLL | 18.381 | | 18.381 | |
| 61 | BRUCE, HEIDI | BB DRIFTIN FRENCHMAN | 18.396 | | 18.396 | |
| 42 | GREEN, JACOB | ROCKY | 18.435 | | 18.435 | |
| 112 | RATCHFORD, DONNA | OBVIOUS TAKA LA MOON | 18.456 | | 18.456 | |
| 29 | WRIGHT, SKYLAR | BLUE ZAYDIN | 18.488 | | 18.488 | |
| 210 | WOODRELL, ROBBY | CEASAR | 18.53 | | 18.53 | |
| 87 | COYNER, TINA | VELOCITY MISS "BABE" | 18.556 | | 18.556 | |
| 74 | MONNAHAN, TRENDA | WIN KATIE GIRL | 18.558 | | 18.558 | |
| 103 | LAWSON, HEATHER | LADY | 18.59 | | 18.59 | |
| 124 | JACKSON, RHONDA | KING O'LENA | 18.605 | | 18.605 | |
| 31 | BARNHILL, KYLEE | MR. TED | 18.787 | | 18.787 | |
| 44 | WINTZ, MEGAN | ANGELS FOUR JETS | 18.817 | | 18.817 | |
| 66 | ELLINGSON, VICKIE | TRUCKER | 19.138 | | 19.138 | |
| 19 | KINGSBERY, KIM | LADY BUG JUICE | 19.148 | | 19.148 | |
| 51 | JOHNSON, CINDY | FINAL KNOCK-OUT | 19.213 | | 19.213 | |
| 18 | MOCK, DEANNA | DOCS REEDS BUCK | 19.285 | | 19.285 | |
| 163 | BAKER, KACI | IMA TINK FALINE | 19.645 | | 19.645 | |
| 189 | COUGHRAN, SHELLIE | ALI | 16.028 | 5 | 21.028 | NO TIME |
| 77 | SHANAWAY, CATHY | DAYBREAK WILDFIRE | 21.498 | | 21.498 | |
| 173 | BEAUFORD, CARLA | LITTLE BILLIE | 16.986 | 5 | 21.986 | NO TIME |
| 72 | BRUNING, JANE | MJC LAST RED ROSE | 34.235 | | 34.235 | |
OPEN 5D PAYOUT
1D PAYOUT
2D PAYOUT
3D PAYOUT
4D PAYOUT
5D PAYOUT
2358.36
2161.83
1,965.30
1,768.77
1572.24
1
$471.67
1
$432.37
1.00
393.06
1.00
353.754
1
314.448
2
$424.50
2
$389.13
2.00
353.75
2.00
318.3786
2
283.0032
3
$353.75
3
$324.27
3.00
294.80
3.00
265.3155
3
235.836
4
$294.80
4
$270.23
4.00
245.66
4.00
221.0963
4
196.53
5
$235.84
5
$216.18
5.00
196.53
5.00
176.877
5
157.224
6
$188.67
6
$172.95
6.00
157.22
6.00
141.5016
6
125.7792
7
$141.50
7
$129.71
7.00
117.92
7.00
106.1262
7
94.3344
8
$94.33
8
$86.47
8.00
78.61
8.00
70.7508
8
62.8896
9
$82.54
9
$75.66
9.00
68.79
9.00
61.90695
9
55.0284
10
$70.75
10
$64.85
10.00
58.96
10.00
53.0631
10
47.1672
$2,358.36
$2,161.83
1,965.30
1768.77
1572.24