2009 2 Day Summer & Fall Barrel/Pole Camps RESCHEDULED!!!

Please pass this on to anyone you think might be interested!


We have rescheduled two upcoming weekend camps/clinics just in time to get you and your horse ready for Finals!!!

Summer Camp/Clinic August 22nd & 23rd, 2009

Fall Camp/Clinic September 19th & 20th, 2009

Move in 8:00am-9:00am on Saturday morning, Move out 7:00pm Sunday night

Tuition is $100 per student per camp. All tuitions are tax deductible as a charitable donation. This includes T-shirt, all meals, drinks, snacks, training, videos, entertainment, & stall for your horse.

You can pay your tuition for either camp in 4 $25 payments, with the last being due by August 14th and September 11th, 2009; or by work credit hours or sponsorships. Contact Shala for more info!

Please email or call Shala with any questions, or to request your enrollment form for either or both camps. I will email or mail you the form. Please send in with your first installment of $25.00 as soon as possible to hold your place, limited enrollment available.

Thanks so much and God bless!
Shala

(Children 10 & under must be accompanied by a parent to stay overnight. Tuitions are non-refundable).

Angelsong Ministries, Inc. is a 501(c)(3) non-profit corporation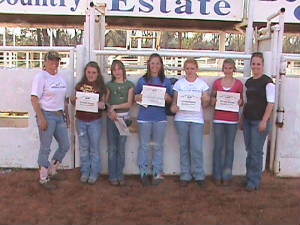 We had an AWESOME Clinic Saturday, April 4th, 2009 at the Chandler RUC Arena! The weather was beautiful, the class was amazing... what a beautiful group of girls with so much talent. We had a great time and are so proud of their accomplishments! Michaela walked away with the "Most Improved" Honors, which was a very tough call cause all the girls learned so much... we were really impressed with her attitude, the way she supported all of the other girls and encouraged them throughout the day, and the way she soaked up everything she could to use on training the new colt she's riding.

I want to thank all these girls and their parents for allowing us to work with their kids. I hope they walked away with some usefull information that will help them in their future! We are very excited about making new friends, and being available as a resource for these beautiful girls.

If you would like to have another clinic in the future, or if you would like for us to come to your Roundup Club, just give us a call!
"Most Improved" Award Winner, Michaela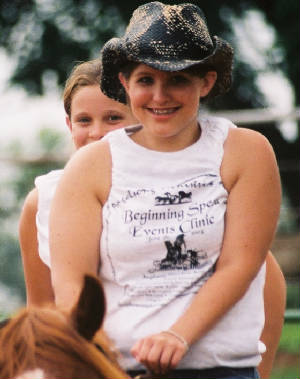 Beginning Speed Events Clinics

Taught by members of Angelsong Ministries Rodeo Team

One of our favorite activities as a ministry is to put on our beginning speed events clinics. Designed to teach youngsters on up, we break down the basics and lay a foundation of getting started in playday or rodeo event competition, and relate them to the Word of God. Believing that He is truly concerned with everything that concerns us, we do what we enjoy for His Glory, and He desires that we become the best we can be in every area of our lives with His help. Teaching about safety, horsemanship, tack and equipment, and the patterns, we assist in preparing beginning and intermediate riders for the next step - competition. We can also help competitors so they can get to the next level of their competition. These clinics are for all ages.

We believe that everyone (especially our children) needs to know that no matter where they are or what their interests, God is always there to help them succeed. We will help them meet their goals by clinics and individual lessons.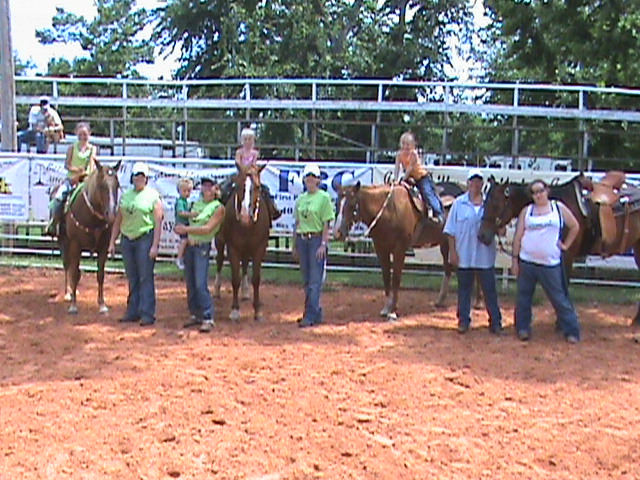 Intermediate Barrel Clinic

Chandler RUC Arena June 28, 2008

We had a great time! We were so happy to have Goldbuckle Express Clinic's instructors Chrystal Hall & Misti Ray! The students did a great job, worked hard, and learned so much! We utilized some of our Ministry's new equipment and horse trailer, and filmed the girls first and last run with the camcorder to view on the big tv in the trailer. What an awesome training/teaching tool! We had a precious group of girls and we are all so proud of them. It was a tough decision, but 15 yr old Jessica Ashworth (see pic below) took home our prestigious"Most Improved Award". This was an awesome class, and we were so grateful for the nice breeze and overcast skies on a normally hot June day. Thank ya Jesus for real! Thank you all so much for coming, it's an honor to teach your children.
Chandler's June 28th Intermediate Barrel Clinic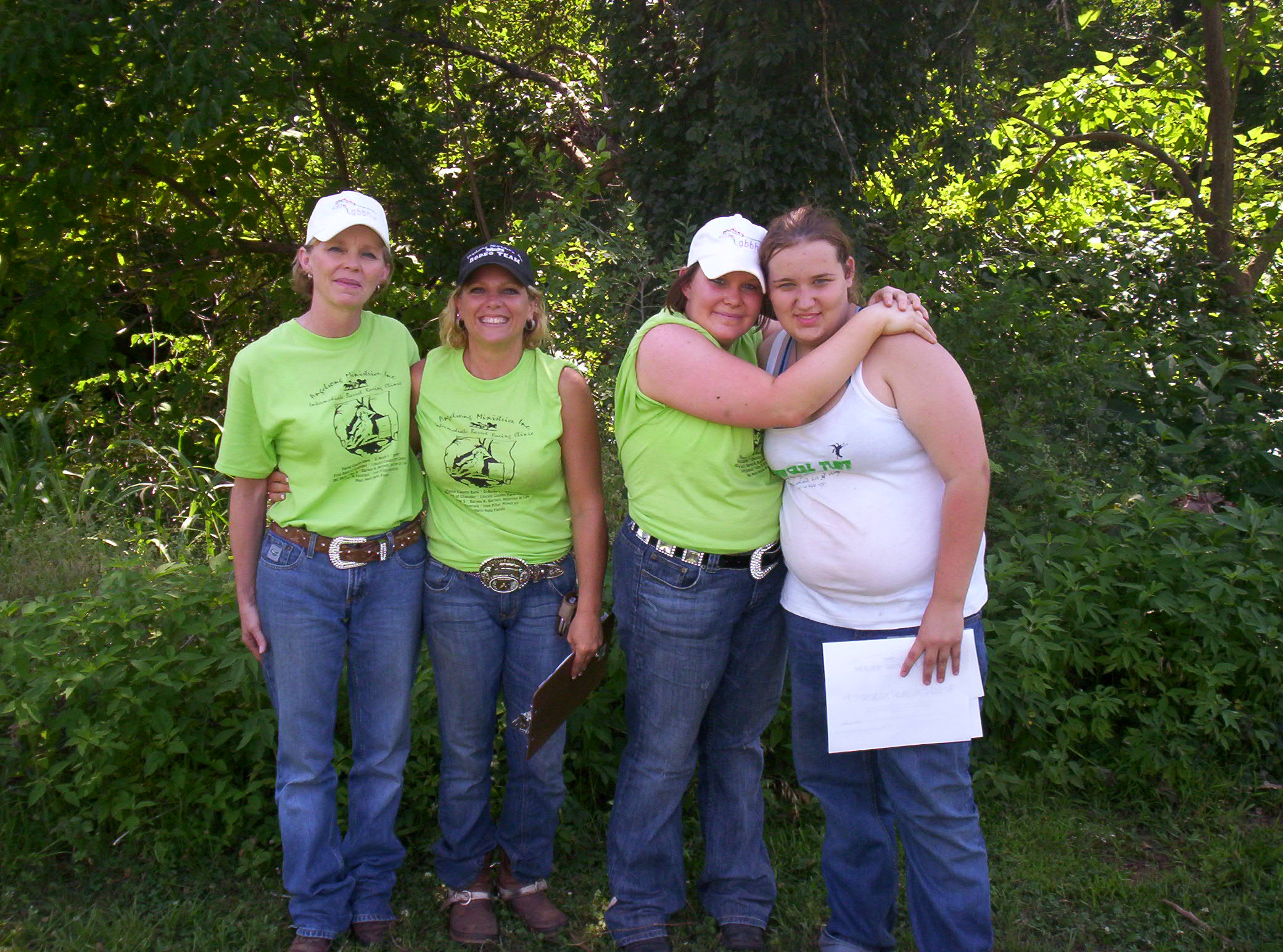 Coaches Chrystal Hall, Shala, Misti Ray, & "Most Improved" Award Winner, Jessica Ashworth
Student Kaitlyn successfully navigates 1st Barrel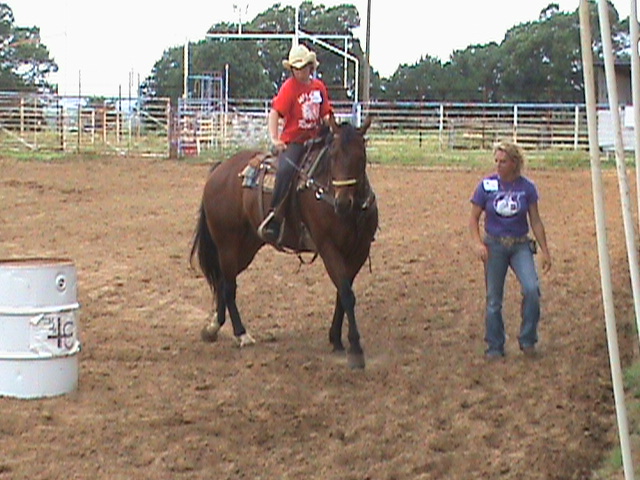 Pastor Dan Megehee of 3 Crosses Arena and Shala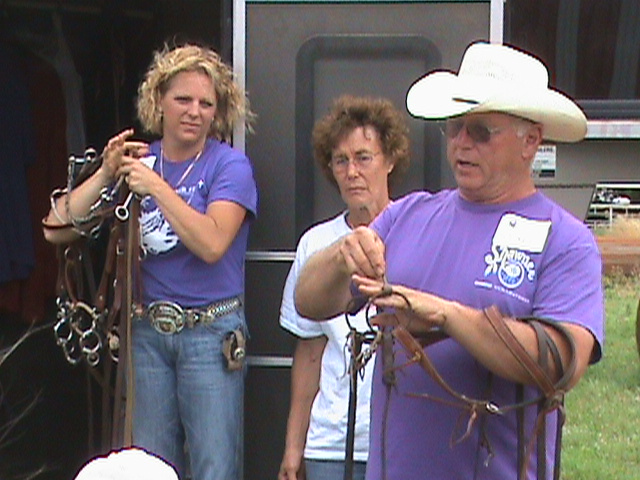 demonstrating different bits and explaining how they function to the students
Click here to see our photo album of the 3 Crosses Clinic!
God was sooooo good to us at this clinic! We had a breeze and a little bit of overcast most of the day so it was much more comfortable than what we had expected. We had a great class of 7 students, and they all did an awesome job!
Chas Hobbie won our "Most Improved Award"! It was a tough choice, as all of our students did so well and learned so much, but in the end she showed the most improvement in her riding and her pattern. WE'RE SO PROUD OF YOU, CHAS!
A huge thank you to Dan and Tammy Megehee and the 3 Crosses arena for having us come, and to all of the parents and grandparents that allowed us the privilege and opportunity to work with their children. THANK YOU!
GOD BLESS!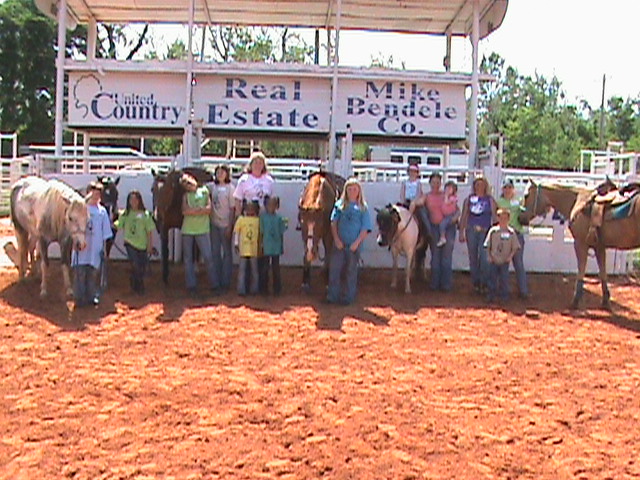 Chandler Beginning Speed Events Clinic May 10th, 2008
Congrats to our graduating BSEC Class! We had a great day! All of our students in this class were new to speed events, so we sent them off with loads of new information. They were from Wellston, Chandler, Shawnee, and Carney! You guys did a great job! We're proud of you!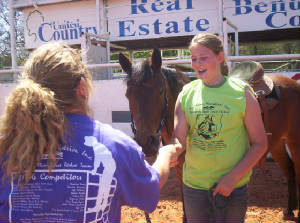 Chandler's Beginning Speed Event Clinic April 28th, 2007
Pictured is Rebecca Foster, granddaughter of Kenn and Sandy Cousins of Jacktown. She is receiving her Certificate of Completion, and also was awarded Most Improved Honors for the day. Sandy had this to say: "Becca had a great time at your clinic. Your staff was friendly and very helpful. Becca couldn't stop talking about every thing that she saw, and heard. I think the biggest thing was she learned a great communication skill between her and the pony this weekend. You guys have a great thing going for the youth. I think every one appreciated what you were doing. God Bless every one involved in this endeavor... I think you guys did a wonderful job with the clinic."
ClinicTuition includes Certificate of Completion, Official Beginning Speed Events Clinic T-shirt, and student's lunch. Concession available for families. Please contact us at angelsong@brightok.net , http://angelsonginc.tripod.com, or 405.641.8680 to get enrollment forms, information on other clinics to be offered, or to set up a clinic at your location. Angelsong Ministries, Inc. is a 501(c)(3) non-profit organization providing clinics, private lessons, Cowboy Church Services and Praise & Worship at various equine events, producing Christian Barrel Races and Ministry Retreats, and the home of Angelsong Ministries Rodeo Team.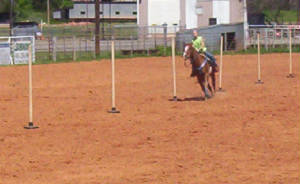 Pictured to the right is Carlie McLean of Stroud running poles on the famous Sherman (we call him the Shermanator). She is a private lesson student here at Angelsong. Carlie's been working with us since August, and has began competing at barrel racing for the first time this year in NBHA OK05. Great job, Carlie!
Click here to view the photos from Chandler's Beginning Speed Event Clinic!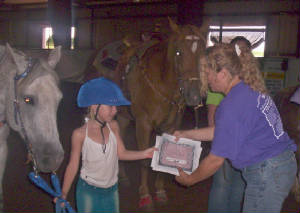 This is from our Sporthorse Arena Clinic on June 17th, 2006. The pic to your left is "Most Improved Award" Winner Indiana Gravelle of Prague, Oklahoma. Indiana and her family not only compete in speed events, but in English riding classes as well. It was a tough call because all the students did so awesome, but we finally determined that she and her good horse, Flower, made the most improvement between their first barrel pattern of the day and their last. Congratulations, Indiana and Flower! We are proud of you!
Click here to see pics from the Sporthorse Beginning Speed Events Clinic!
Beginning Speed Events Clinics
BARREL RACING, PLAYDAY EVENTS, DUMMY ROPING
Taught by members of Angelsong Ministries Rodeo Team
Tuition only $35 per student (family discounts available)
Includes Clinic T-shirt & Graduation Certificate
(All proceeds go toward outreach ministry, AMI is Non-profit 501(c)(3) Organization)
Contact Shala Martin-Smalley at 405.641.8680 or
Angelsong@brightok.net
for enrollment forms. Enrollment limited to 15 students per clinic. Subject to cancellation if less than 10 students apply for a clinic, all monies will be refunded in event we must cancel.
For more info contact Angelsong Ministries, Inc. * Rt 1 Box 131F * Agra, OK 74824 * 405.641.8680
Proudly sponsored by
Payne County Bank, Member FDIC * First Bank of Chandler * IBC Bank of Chandler * Bar S Training Stables * O'Reilly's of Chandler * Iron Pillar Ministries, Inc. * D Bar M Fastrack * Barney K. Barnett, Attorney at Law * Walmart of Chandler *