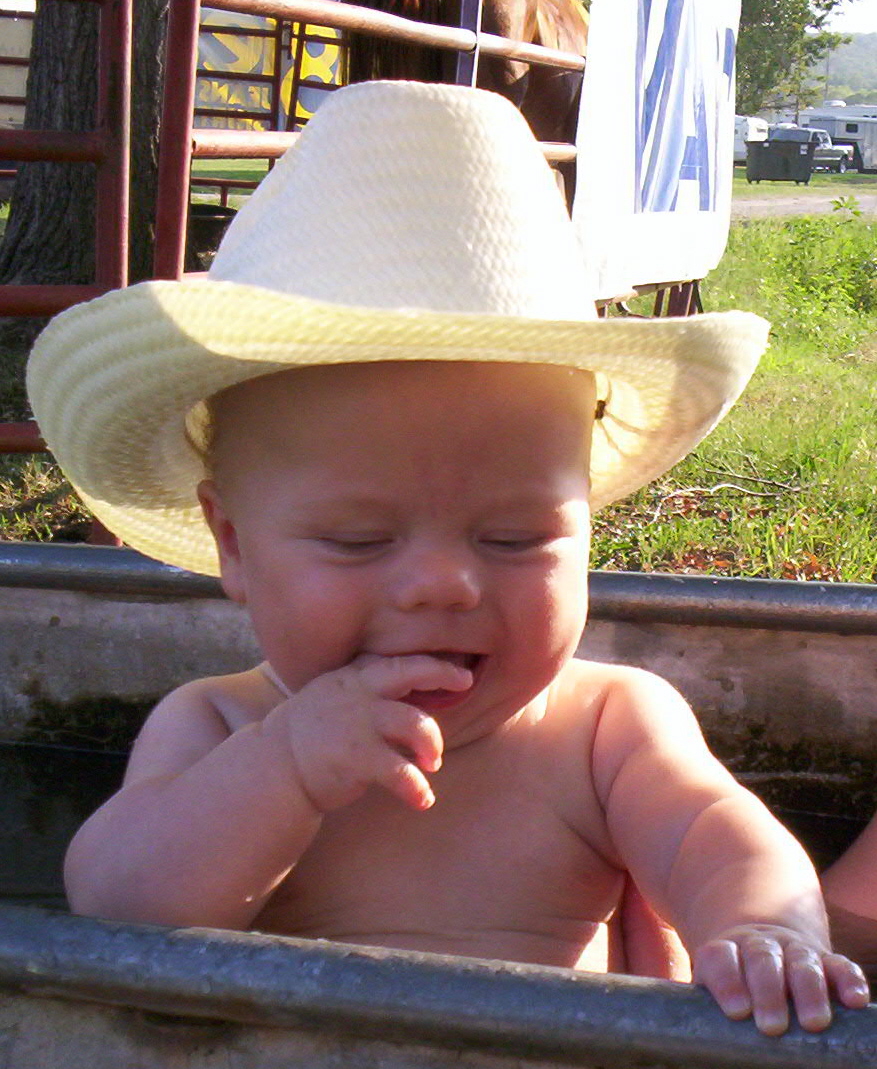 Angelsong Ministries, Inc. is an outreach ministry in the arena of Barrel Racing, Speed Event teaching/competition, and Rodeo. A few of our functions are providing Cowboy/Cowgirl church services before barrel races, teaching clinics for beginners to speed events, singing and providing praise and worship at related events and rodeos. It is our mission and our vision to reach out to those that have wondered away and those that have have not ever found their way. The Word says if He be lifted up, He will draw all men unto Him. We are there to lift Him up, to be available, to encourage, and to lead.
Luke 1:17NIV And he will go on before the Lord, in the spirit and power of Elijah, to turn the hearts of the fathers to their children and the disobedient to the wisdom of the righteous--to make ready a people prepared for the Lord."
Pastors Bruce & Shala Smalley, Melissa, and Josiah
Angelsong is a 501(c)(3) non-profit

incorporation and your donations are

totally tax deductible! THANK YOU!
Check out more info about Angelsong Ministries, Inc. and other charitable organizations on Guidestar!
Click here to download Enrollment Brochure for 2010 Spring Break Camp March 15th-19th, 2010
Enrollment is now open for the 2010 Angelsong Spring Break Barrel/Pole Camp March 15th-19th, 2010! Tuition only $300 per student. Download your form and information by clicking the link above. Enrollment limited to 10 students, so be sure you get your $50 deposit in quickly to reserve your spot! Remainder of tuition is payable in $50 increments with total being due by March 1st, 2010.
The First 2009 Fall Camp Graduating Class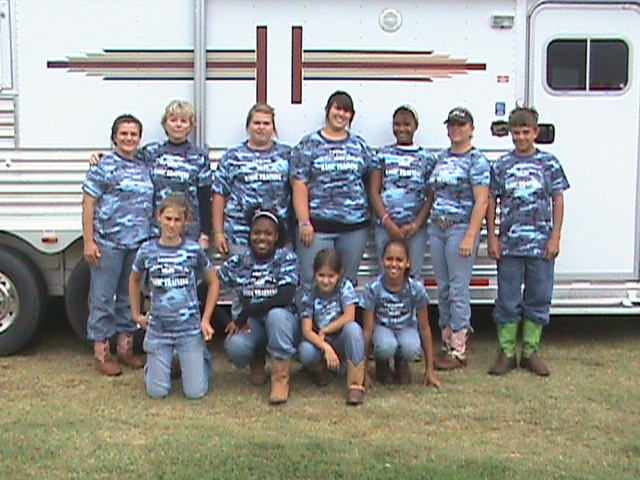 We are so proud of these girls! They did a GREAT JOB!
Click here for pics from the 1st 2009 Fall Camp October 3rd & 4th, 2009
We had an awesome camp October 3rd & 4th!!! We had 7 girls this time, and they all did so awesome. They worked hard, learned much, and we are so glad to have been able to spend time with them. GOOD JOB, GIRLS! Here's a few pics.
Shala with Angelsong Student, Bri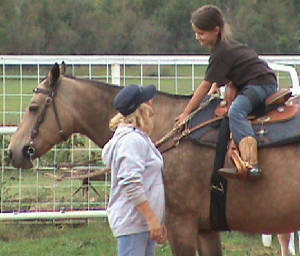 Bri's riding one of our awesome lesson horses, Paula
Sidney learning the proper approach to 1st barrel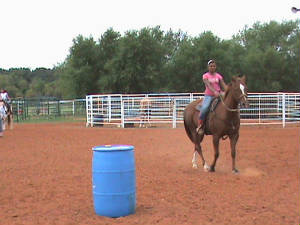 Sidney's riding one of Shala's good competition horses, Partee
Watchin' and learnin'!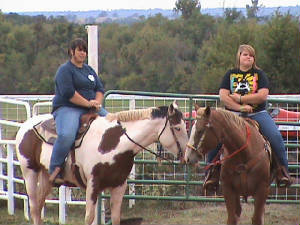 Two of our new students, Tori & Alex, taking it all in
We are so grateful to have Miss Chrystal Hall!!!
Miss Chrystal is teaching the girls & doing some ground work
Angelsong MInistries' student, Shaniah Lively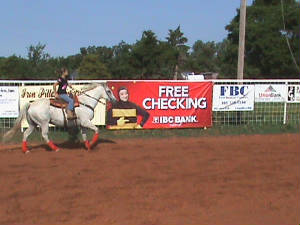 We thank our proud sponsors!!!
We had 11 Baptisms that day, 3 students, rest IPM!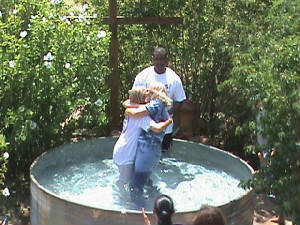 Congrats to Angelsong Ministries' Student, Starr Densmore!
Angelsong Summer Camp Team Leader, Rebecca Foster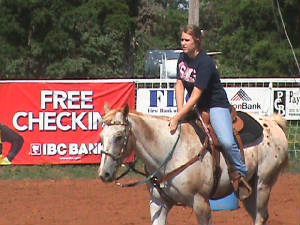 Becca has been with us many years, and we're so proud to have her!
Becca assisting some of the girls
They all worked very hard, and did an awesome job!
Miss Paula Austin from IPM & Poliwogs HDC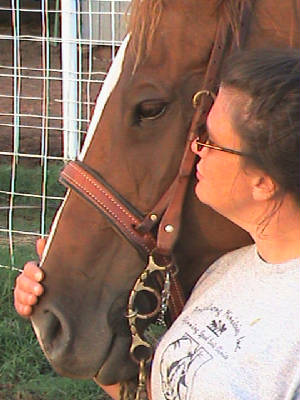 Lovin' on Partee Easy, one of Angelsong's good horses
We just completed our first 2 Day Summer Camp!

Check out the pics:

More camps are now rescheduled! Our next camp September 19th & 20th is full up, but if you are interested in coming to a camp, we are looking at October 17th & 18th, 2009. Contact Shala at

angelsong@brightok.net

as we have limited enrollment!

Please pass this info on to anyone you think might be interested!


Fall Camp/Clinic September 19th & 20th, 2009

Move in 8:00am-9:00am on Saturday morning, Move out 5:00pm Sunday night

Tuition is $100 per student per camp. All tuitions are tax deductible as a charitable donation. This includes T-shirt, all meals, drinks, snacks, training, videos, entertainment, & stall for your horse.

You can pay your tuition for either camp in 4 $25 payments, with the last being due by September 11th, 2009; or by work credit hours or sponsorships. Contact Shala for more info!

Please email or call Shala with any questions, or to request your enrollment form for either or both camps. I will email or mail you the form. Please send in with your first installment of $25.00 as soon as possible to hold your place, limited enrollment available.

Thanks so much and God bless!
Shala

(Children 10 & under must be accompanied by a parent to stay overnight. Tuitions are non-refundable).

Angelsong Ministries, Inc. is a 501(c)(3) non-profit corporation
Shala speaking in the Super Barn- BBR World Finals
OKC Fairgrounds in Oklahoma City, OK, April 24th, 2009.
Well, we just got back from another exciting week of the BBR World Finals at the OKC Fairgrounds! We had an AWESOME week of Ministry with Tana Poppino (who by the way won the whole thing! Go Tana, we're so proud of you!!!) of Cowboy Junction speaking at our Thursday Church Services, Shala Friday, and Karen Brown of Cowboy Junction on Saturday. Sunday's services by T-Ray Ministries was amazing as well, as God showed up and showed out! We are so excited about what He's doing in the world of Barrel Racing, and how He's brought ministries such as these together to rock the arenas and change the atmosphere!!! Check out pics on our myspace, and soon here on the website and facebook pages... thank you so much to all that attended, please shoot us an email and we'll get ya added to our email list! It was a week of miracles!
*****************************************************************************
We want to thank Chandler's Ministerial Alliance for allowing Shala the opportunity to speak at Wednesday's Holy Week Services held at the Methodist Church in Chandler in April. Shala represented our home church, Iron Pillar Ministries, as she shared a powerful message of God's Love, Grace, and Mercy; and Jesus' desire to take the most wretched life and make it something beautiful to be used for His Glory as reflected by the stories of Mary and the Alabaster Box & the woman at the Well.
Pastor Shala speaking at the Ministerial Alliance's Holy Week Services Wednesday, April 8th, 2009
Angelsong
News!!!!
Angelsong Ministries, Inc. will not be producing the 2009 Christian Cowboy Gathering Barrel Race at the Shawnee Expo Center this October. Contact Chrystal Hall for more info!
We are very excited about more camps in the future, and will continue to work on the facilities and press on in that direction! Please keep this project in your prayers, as we have obviously been facing a little opposition. We are trusting God, and are sure that He is in control and in His timing, all that He has promised will come to pass. The Vision has not changed!
Thank you all so much for your support and your prayers, we appreciate each of you so much!
Our Graduating Class from Chandler's 4-4-09 Clinic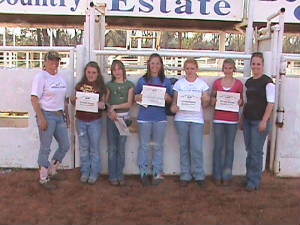 Shala, Brayden, Leslie, Michaela, Jaci, Lauren, & Toni
"Most Improved" Award winner, Michaela
She received her Certificate & a Journal for Christian Barrel Racers
Click here for the Chandler Clinic Photo Album!
Click here for our February 2009 5th Anniversary Edition Newsletter!!!
Our new lesson horse, Paula Julie Abdul - or "Miss Paula" as Josiah calls her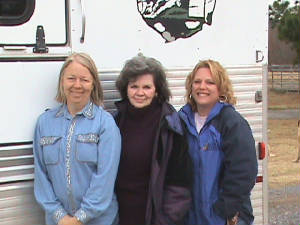 Diane Guinn, Arleen Cavanaugh, and Shala
Meet our newest miracle answer to prayer - the beautiful "Paula Julie Abdul"!
Paula was donated to Angelsong this week by Arleen Cavanaugh, pictured above with her sister, Professional Barrel Racer Diane Guinn. Diane forward our email requesting prayer and a horse to take Sherman's place while he's healing in taking care of our beginners and babies in our clinics and camps this summer. Arleen responded in love donating the mare that she has raised and cared for all of her life, knowing she would have a very important job to do here. She is PERFECT for what we were needing! We are so appreciative of Arleen's generosity and love; and pray a hundred fold blessing in return (but not in horses, lol)!!! THANK YOU SO MUCH ARLEEN AND DIANE! YOU HAVE SOWN INTO EVERY CHILD'S LIFE THAT WILL CLIMB UP ON THAT MARE AND LEARN THE LOVE OF JESUS THROUGH YOUR GIFT OF LOVE! We are so grateful.
THANK YOU SO MUCH FOR HELPING US CELEBRATE OUR 5TH ANNIVERSARY JANUARY 25TH, 2009!!!
Thank you so much for your faithful support of Angelsong Ministries, Inc. We are very excited about 2009 here at Angelsong, and the new directions and outreaches that God has opened up to us. This year we are celebrating Angelsong's 5th Anniversary - five years of successful, life changing ministry! Please check out the link above to our brand new 5th Anniversary Video, or email us for a copy of the DVD. We would like to dedicate this to Hank Martzall, without him the "Dream" wouldn't be what it is today.
Hank, I know you're smilin' down from Heaven at what God has done with that little bitty ministry... we love you, we miss you, and we appreciate everything you did for us so much. See ya when I get there!
For the first time, we will begin holding Speed Events Clinics here at our facilities, as well as our first year of Barrel Racing/Pole Bending Summer Camps! We will also continue on with our other activities and events, such as Producing Christian Barrel Races; and our mentoring program, Angelsong Ministries Rodeo Team.
Your continued support will enable us to continue to reach out to the youth and families of our communities, and provide them a safe place to learn, to grow, and excel in their sport through training & hard work; and give them a sound, solid foundation to build their future on.
God bless you, and thank you so much for your support. You are making a difference in the youth of Oklahoma one family at a time!
In His Service,
Shala Martin-Smalley
Pastor, President, & Founder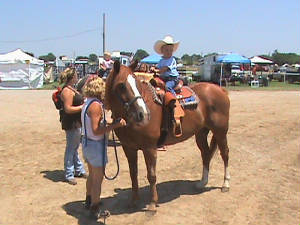 Urgent Prayer request for Sherman

If you have been to any of our lessons or clinics, chances are that you have met Sherman. He is our lesson horse, and the one all the beginners learn on. He had an accident on Sunday, January 4th, 2009. Evidently he was running and fell down our pond dam into a fence and fractured the 2nd vertebra of his neck. He is doing well, and eating/drinking really good. He still needs lots of prayers that he can regain full control of his body and a full range of motion. We are believing God for total and complete restoration! Please be in agreement with us for Shermy's full AND FAST

recovery!

Angelsong Ministries, Inc.

wishes you a prosperous and

HAPPY NEW YEAR!!!

As we near the new year and Angelsong's 5th Anniversary January 25th, 2009, we are so thankful for the prayerful and financial support you have all given us for half a decade! You are responsible for the countless lives that have been touched, people and horses healed and helped, and the many salvations God has orchestrated through the many outreaches of Angelsong Ministries, Inc.!

The Message Version: Galations 6:7-8 Don't be misled: No one makes a fool of God. What a person plants, he will harvest. The person who plants selfishness, ignoring the needs of others—ignoring God!—harvests a crop of weeds. All he'll have to show for his life is weeds! But the one who plants in response to God, letting God's Spirit do the growth work in him, harvests a crop of real life, eternal life. 9-10 So let's not allow ourselves to get fatigued doing good. At the right time we will harvest a good crop if we don't give up, or quit. Right now, therefore, every time we get the chance, let us work for the benefit of all, starting with the people closest to us in the community of faith.

Thank you so much for your faithful support!

Angelsong Ministries, Inc.

Rt 1 Box 131F

Agra, OK 74824

405.641.8680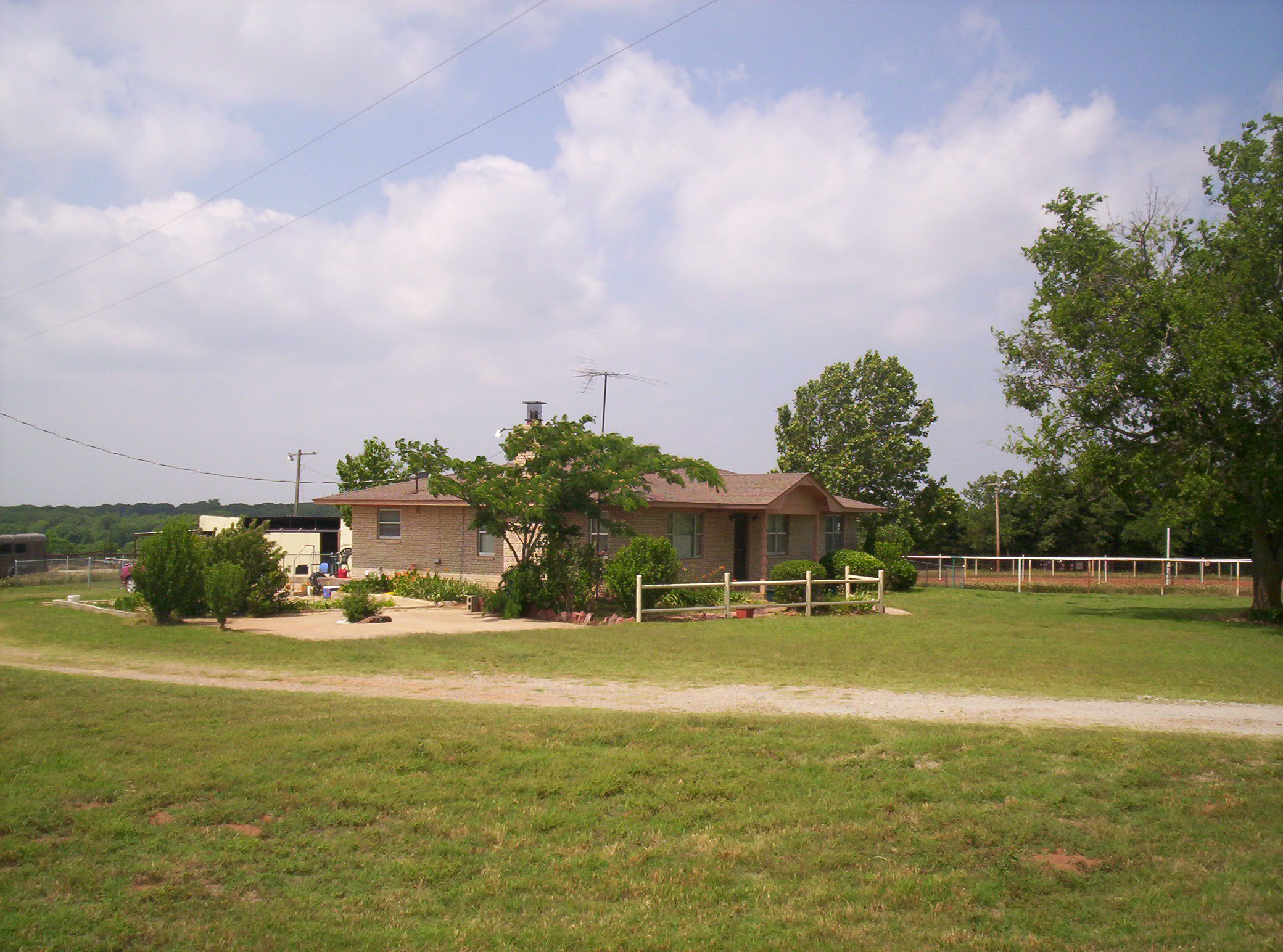 Angelsong Ministries, Inc. Facilities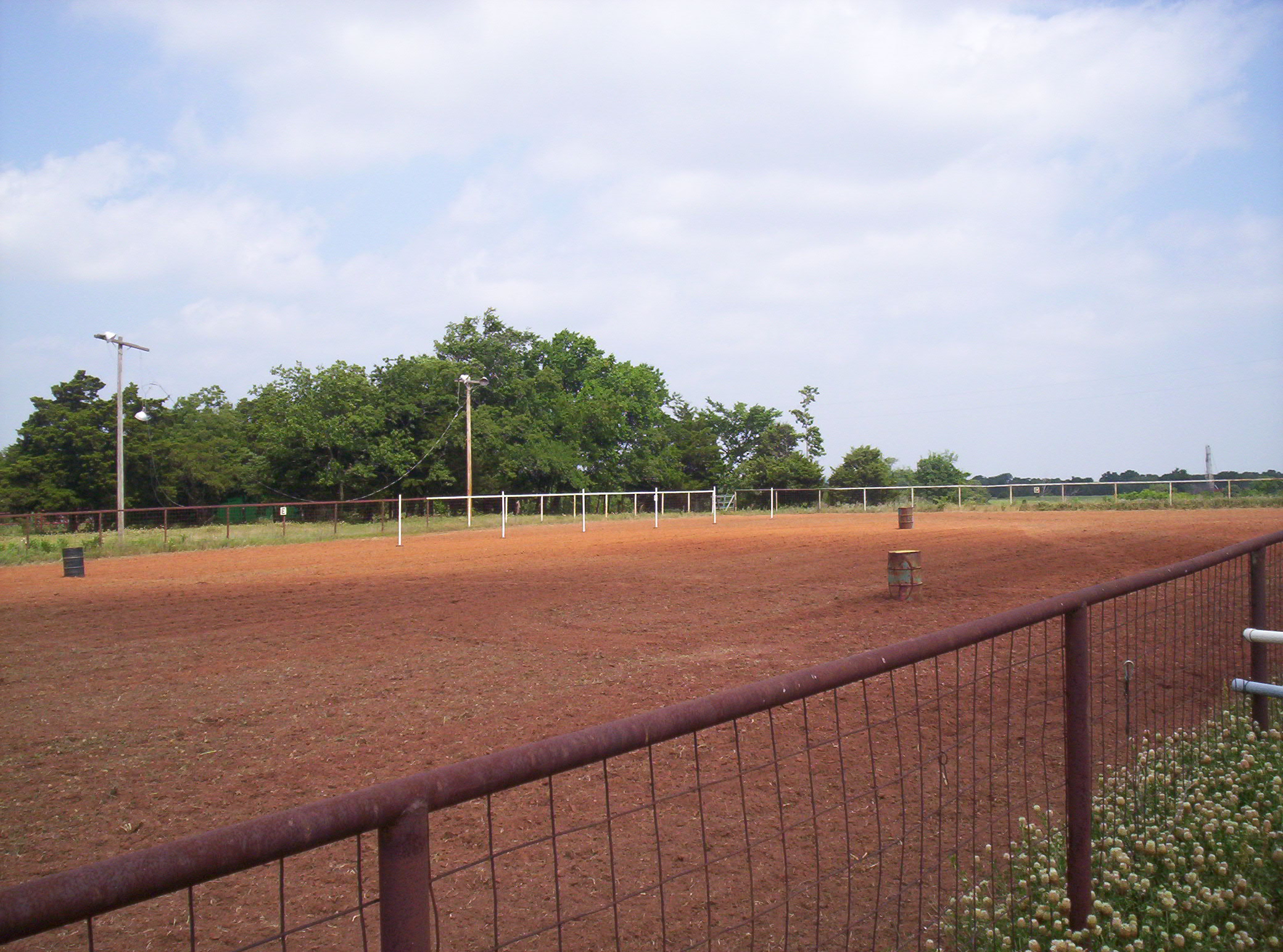 Angelsong Ministries, Inc.'s Facilities - The arena
Angelsong Ministries
Barrel & Pole Camps
It has always been part of our Vision to have a girl's barrel camp here at our facilities. God has impressed upon our hearts that now is the time to begin construction on that ministry! It is our goal to be up and functioning and have summer camps in 2010.
We need your help to complete this project. Donations of supplies and laborers are needed to complete the bunkhouse. We need an 8x10 or larger storage shed, insulation, sheet rock, a window unit air conditioner, 2 bunkbeds w/storage and 2 single twin beds, 2 dressers, & bedding to get started. Would you be willing to donate your time, supplies, and/or finances to help us make a fun & safe place for the kids to come and learn about barrel racing & pole bending, safety, sportsmanship, discipline, accountability, work ethics, and most importantly, about the Lord? Please contact Shala at
angelsong@brightok.net
or 405.641.8680 to partner with us! Angelsong Ministries, Inc. is a 501(c)(3) non-profit organization and all donations are totally tax deductible. WORK DAYS - MARCH 7TH & 14TH @ 9:00AM, ANGELSONG MINISTRIES RANCH!
Private Lessons
Private Speed Event Lessons (barrels, poles, flags, stakes) are available at our facilities for all ages for only a $25 donation throughout the summer in one hour intervals on Mondays, Wednesdays, and Friday mornings and Monday and Friday evenings (Work is available for your child to earn their tuition). Bring your horse, or we have one available here for beginners. One or two lessons per week are recommended. Contact Shala for more info or to reserve your time slot at 405.641.8680.
Click on the pic to go to their website!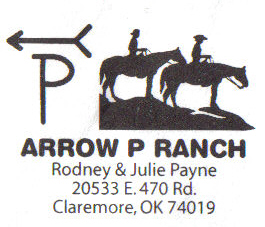 Your support of our sponsors assures their continued support of this ministry and our events. Please let them know that you appreciate their support of Angelsong and our many Outreach Ministries. Thank you so much for doing business with our sponsors!
Click here to go to Shala's new blog!!!
Click here to get into our message board! Catch all the latest info, dates, and ministry news here! Add your prayer requests!